Historic Home Plaques – Order Today!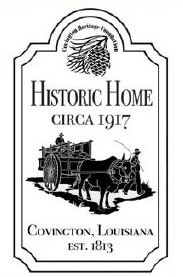 The Covington Heritage Foundation is offering residents an opportunity to play a part in the preservation and recognition of Covington's turn-of-the-century architectural history. The 1927 Sanborn map for Covington reveals that many of our homes are nearly a century old. A hand-carved relief porcelain tile with white glazed lettering and a black glazed background as seen here (with reverse colors) is being offered to residents that want to display their home's historic heritage. The plaque, made by Nick Hassock*, will measure approximately seven and one-half inches wide by twelve and one-half inches tall, with pre-drilled holes for attachment to homes. Plaques will enhance the appearance of Covington's many older properties and residences. To be eligible a house must be shown on the 1927 Sanborn map and still possess the architectural authenticity of the era. Eligibility will be determined by the Covington Heritage Foundation. Plaques will be sold for $250 which includes membership dues through December 2016. Current members receive a $40 discount. Orders will be hand delivered within approximately 30 days from order date. Installation is available for a minimum charge of $45.
*Plaques are hand crafted by Nicholas Hasslock, son of Tika and Steve Hasslock of Hasslock Studios in Covington, who literally grew up in the local art scene- nurturing Nick in many mediums, especially ceramics. That kind of upbringing was the perfect backdrop to provide him with the backbone to carry some very important New Orleans landmarks into the future. Nick now owns New Orleans Tile Company. Check out his website, http://www.neworleanstileco.com/ to view his projects. One I am sure most of you have seen is his work that was commissioned by Boh Brothers making the tiles for the street names of almost every street in New Orleans. While the original tiles were made in Alhambra, Spain and installed around the 1920s, now it can be said that our Nick Hasslock has designed and created the new tiles. His tiles made for Zulu from original illustrations are remarkable.
–> Download the House Plaque Order Form Here <–
Quarterly Meetings:
All quarterly meetings are open to all members on the second Tuesdays of March, June and September  at 11 am at the Covington Trailhead Museum, 419 N. New Hampshire Street.
Books by CHF Members about Covington: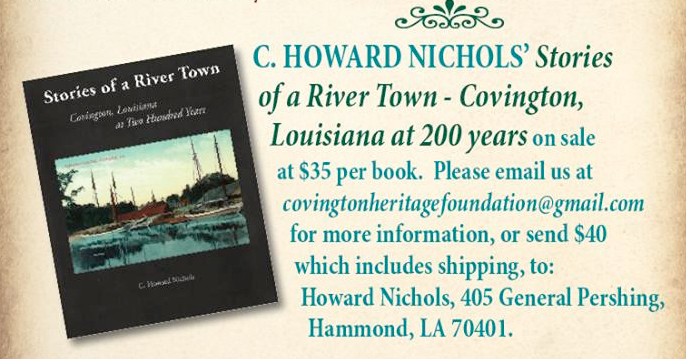 Stories of a River Town
by C. Howard Nichols
Stories of a Rivertown:  Covington, Louisiana at 200 Years, may be purchased through the Covington Heritage Foundation for $35.  Send an email to covingtonheritagefoundtion@gmail.comand we will have a book waiting for you at the Trailhead Museum.  Books can be mailed anywhere in the US  by mailing a check or money order for $40, which includes shipping, to:  C. Howard Nichols, 405 General Pershing, Hammond, LA 70401
African American's In Covington
by Eva Semien Baham, Rev. Mallery Callahan
Covington is the seat of St. Tammany Parish government and sits north of Lake Pontchartrain in the New Orleans metropolitan area. Records from 1727 show 11 Africans on the north shore. One person of African descent was present at the founding of Covington on July 4, 1813. Most African Americans in antebellum Covington were slaves, with a modest number of free people, all of whom covered nearly every occupation needed for the development and sustenance of a heavily forested region. For more than 200 years in Covington, African Americans transformed their second-class status by grounding themselves in shared religious and social values. They organized churches, schools, civic organizations, benevolent societies, athletic associations, and businesses to address their needs and to celebrate their joys.
Author Bio: Looking back in time, author Eva Semien Baham traces the core of Covington's African American community members to their faiths' emphases on timeless endurance, perseverance, and active work for change. Residents have a rich history and a contemporary experience rooted in both spiritual and civic involvement on behalf of the social, cultural, and economic advancement of their community, town, and country.